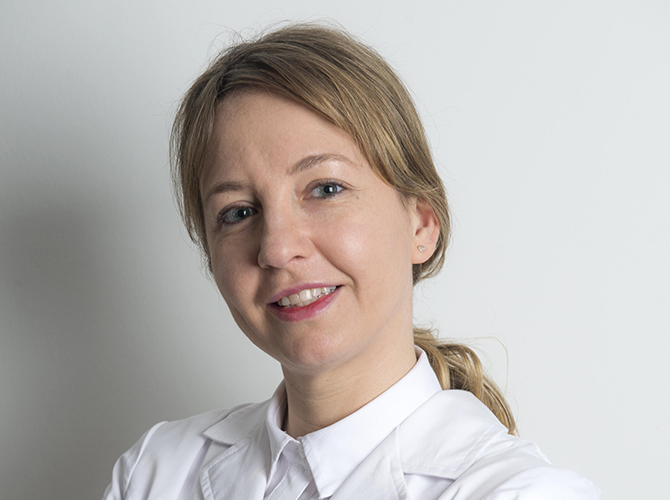 DRA. ANDREA OLEÑIK
Dra. Andrea Oleñik , Oftalmólogo Especialista en Cirugía de Retina-Vítreo y Catarata en el Hospital Quirón San José de Madrid-España, Limmatz Augenzentrum Zürich-Suiza y Oftalmed Clínica de Ojos Asunción-Paraguay.
Consultor de la plataforma de Tele-Oftalmología OptRetina. Presidente de la Fundación Retina de Paraguay para combatir la ceguera prevenible a través de la telemedicina. Profesor visitante en la Universidad Nacional de Itapúa. mejor graduado en medicina de la Universidad Nacional de Itapúa, fue miembro del Instituto de Investigación en Salud del Hospital Fundación Jiménez Díaz en Madrid y ha trabajado como investigador principal y / o colaborador en ensayos clínicos y proyectos, cubriendo diferentes áreas oftalmológicas como Disfunción de la glándula de Meibomio, el uso de fármacos interferentes para el dolor ocular, el estudio del agujero macular en el paciente miope. Combinando estos trabajos con su trabajo como revisora y autora en publicaciones internacionales. Ha sido observadora en el centro de referencia de enfermedades del vítreo y la retina: Charles Retina Institute en Memphis, EE. UU. Y su investigación más reciente se ha dirigido a evaluar la influencia de los ácidos grasos omega 3 (FJD Madrid Research Award 2016) en el ojo seco, el diagnóstico de sarcoidosis ocular y el estudio de la técnica de colgajo invertido en orificios maculares de pacientes con alta miopía, presentando más de 14 publicaciones internacionales en revistas de impacto y participando en el Comité Editorial de 4 Oftalmología Revistas Internacionales.
Idiomas
Inglés y Español.
Formación
Doctora en Medicina y Cirugía por la Universidad Autónoma de Madrid,
Máster en Retina y Vítreo por el Instituto de Microcirugía Ocular (IMO) de la Universidad Autónoma de Barcelona
MBA en gestión clínica, médica y asistencial por la universidad CEU
To contact directly with Dra. Andrea Oleñik, send us the following form with your questions and we will get back to you soon.